'19 UTSA Women's Soccer
2019 Official Schedule Poster & Digital Media for UTSA Women's Soccer. Like Soccer, keeping to its simple foundation but balancing vibrant & creative individuality.
2019 Official Schedule Poster
The challenge was to present a different design concept focusing on the branding identity of UTSA Women's Soccer. Simplifying the design for the audience to quickly identify the sport & Athletics branding.
Student-Athlete Photo Shoot
First solution was to work with local Photographer & give direction on various poses and stances for the student-athletes. Then choosing the right photos, color correcting & clipping out the pictures for multiple use on poster & digital media.
Poster Composition & Layout
Next solution was finding the proper photo that quickly helps identify the sport & Athletic's branding. Also balancing the imagery along with the full schedule.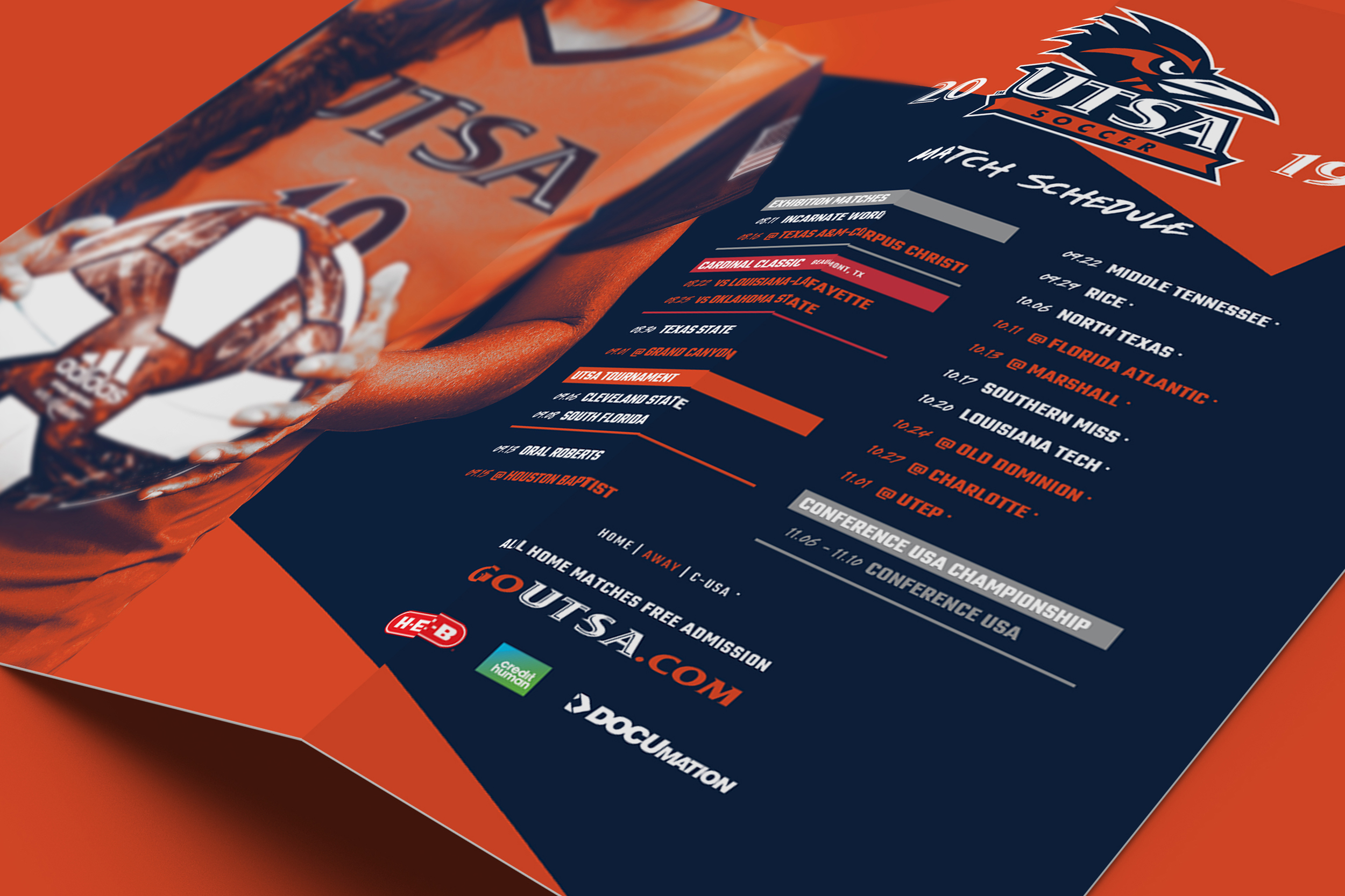 Next problem to solve was the schedule. Simplifying & condensing a large amount of information to be clear & legible for the audience.
After completion of poster design, it's utilizing it as the branding guide for other design elements such as digital media. Content curated in collaboration with Communications through out the season.
Graphics done to countdown the upcoming season & get the fans buzzing. Each design made with various digital platforms in mind. Making sure the design can be viewed from as many platforms as possible.
Countdown graphics lead to Game Day when the season begins. Showcasing various student-athletes for each game. Each element of content is meant to give information for the game of the day. Sized according to which ever social media platform it is to be posted to. Also these are designed as templates in Photoshop using layers & smart objects so any user can easily update.
Theme week for soccer facility named Park West. The play on words to make it "Jurassic" Park West.
Promotional item design to mimic theme week of Jurassic Park West to build some anticipation to game day.
Essentially a smaller version of poster as a one sheeter for faster distribution for students on campus.
These are roster card designs for home games. The from to showcase a student-athlete & on the back are the rosters for both teams playing.